Thor – the Arctic Sled
Adventure custom for Nordic life
Using a BMW RnineT Urban G/S as a base, this blacked-out carbon-fibre clad custom takes craftsmanship, functionality and a generous helping of post-apocalyptic style to deliver a brutally beautiful build.
Bike
Thor (based on BMW R nineT Urban G/S)
BETWEEN REVIVAL AND CITATION
Inspired by his home country of Sweden, Anton Knutsson of Injustice Customs decided to reinvent the classic 'desert sled' look for the colder, muddier and wetter climate in which he's based.
+ Read more
The spark
The spark
"Last year," Anton explains. "I went on a big road trip across the Pyrenees, through the Alps and back to Sweden. It was incredible, but I was on a flat-tracker and I couldn't help thinking it would be much more enjoyable on something purpose built for such and adventure."
"When I began talking to BMW, I couldn't get this idea out of my head. Of course, BMW are pioneers and leaders in the adventure motorcycle scene, so it seemed natural to create my own vision of a custom adventure bike."

Anton's customs are always stunning modern classic-style bikes – so it was never going to look like your typical ADV machine. "The thing is, I'm not really in the big adventure bike world. So, this build was always going to be my take on an adventure bike that I'd love to ride – and the RnineT Urban G/S was the perfect starting point."

+ Read more
Striking style
Striking style
When it comes to looks, Anton often draws on his love for Sweden and the Nordics for the design of his motorcycles. "I had to name it after the old Norse god, Thor. But it's not just the style and name that's a direct result of where I'm from – it's functionality too. Places like California or Spain have such fantastic riding weather from much of the year. Here, in Sweden, you're looking at winter for half the year. It's dark all day and snowy. The further north you go the worse it is."
With this in mind, Anton started sketching out his plans. Big ground clearance, powerful lighting and top-quality suspension were added to the list. "I wanted it be similar to a 'desert sled', but for snow and unpaved roads."
+ Read more
«
I wanted it be similar to a 'desert sled', but for snow and unpaved roads. »
Anton Knutsson
Injustice Customs
Front suspension
Öhlins USD Blackline (aprox. 2" longer than OEM)
Rear suspension
Öhlins Blackline S46 (aprox. 2" longer than OEM)
Exhaust
Hand-made from titanium by Injustice Customs. Superbike muffler by SC-Project.
Paint
Paintwork by Image Design, transparent camouflage on carbon fibre products.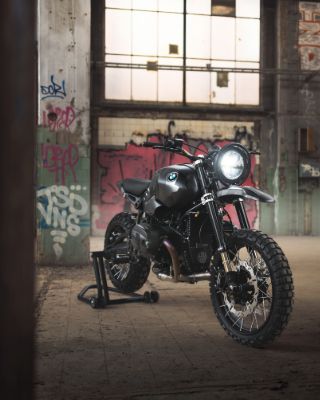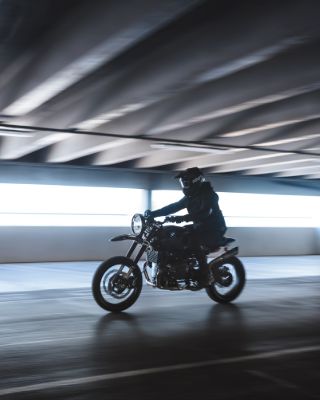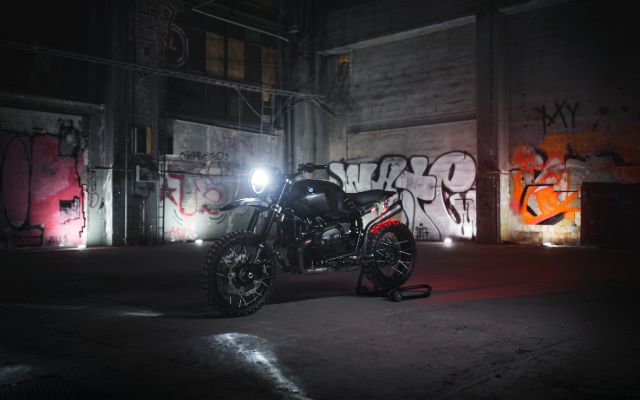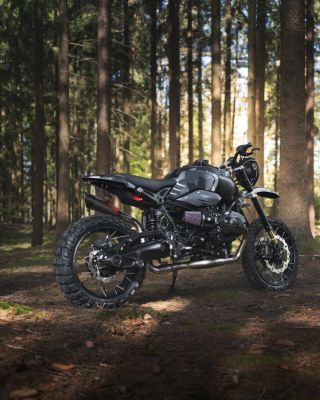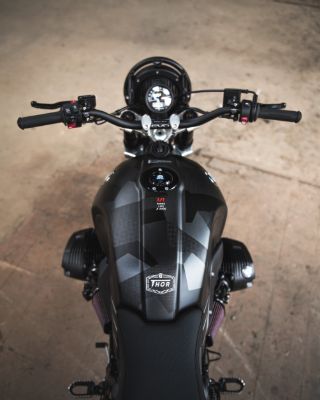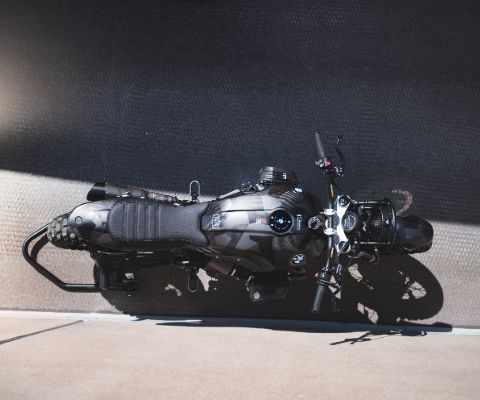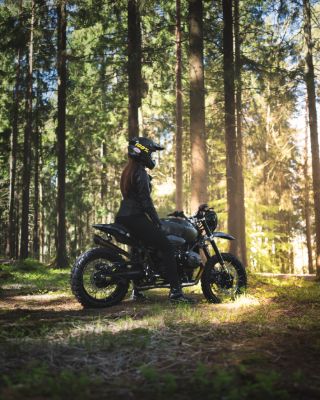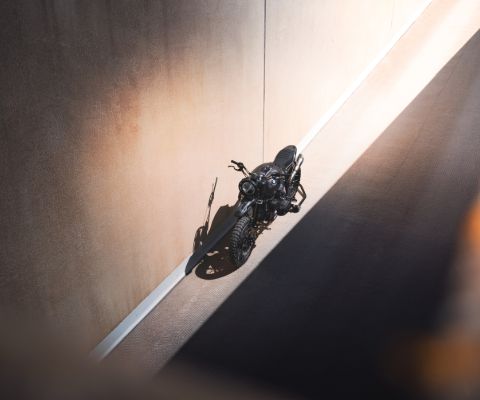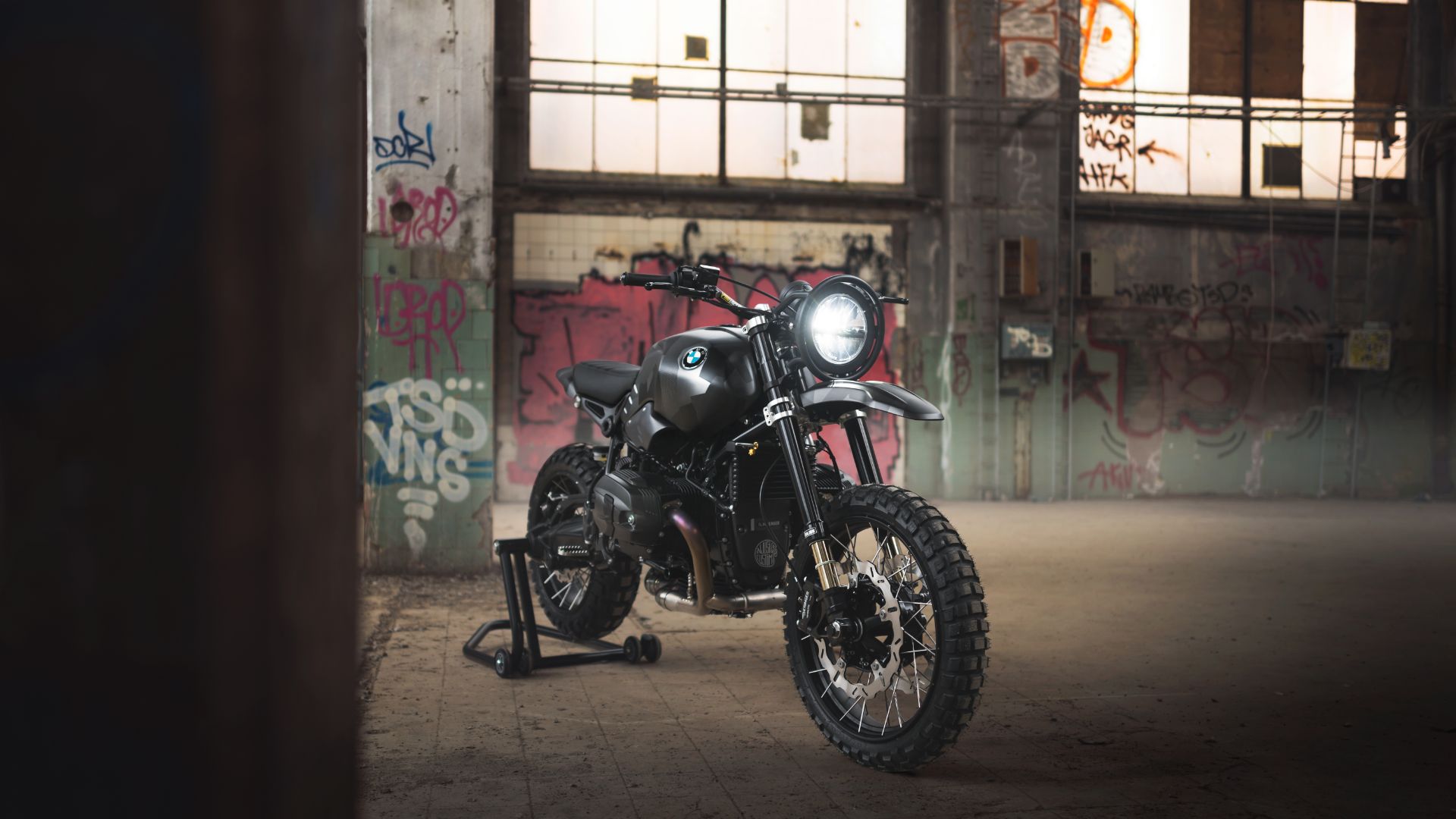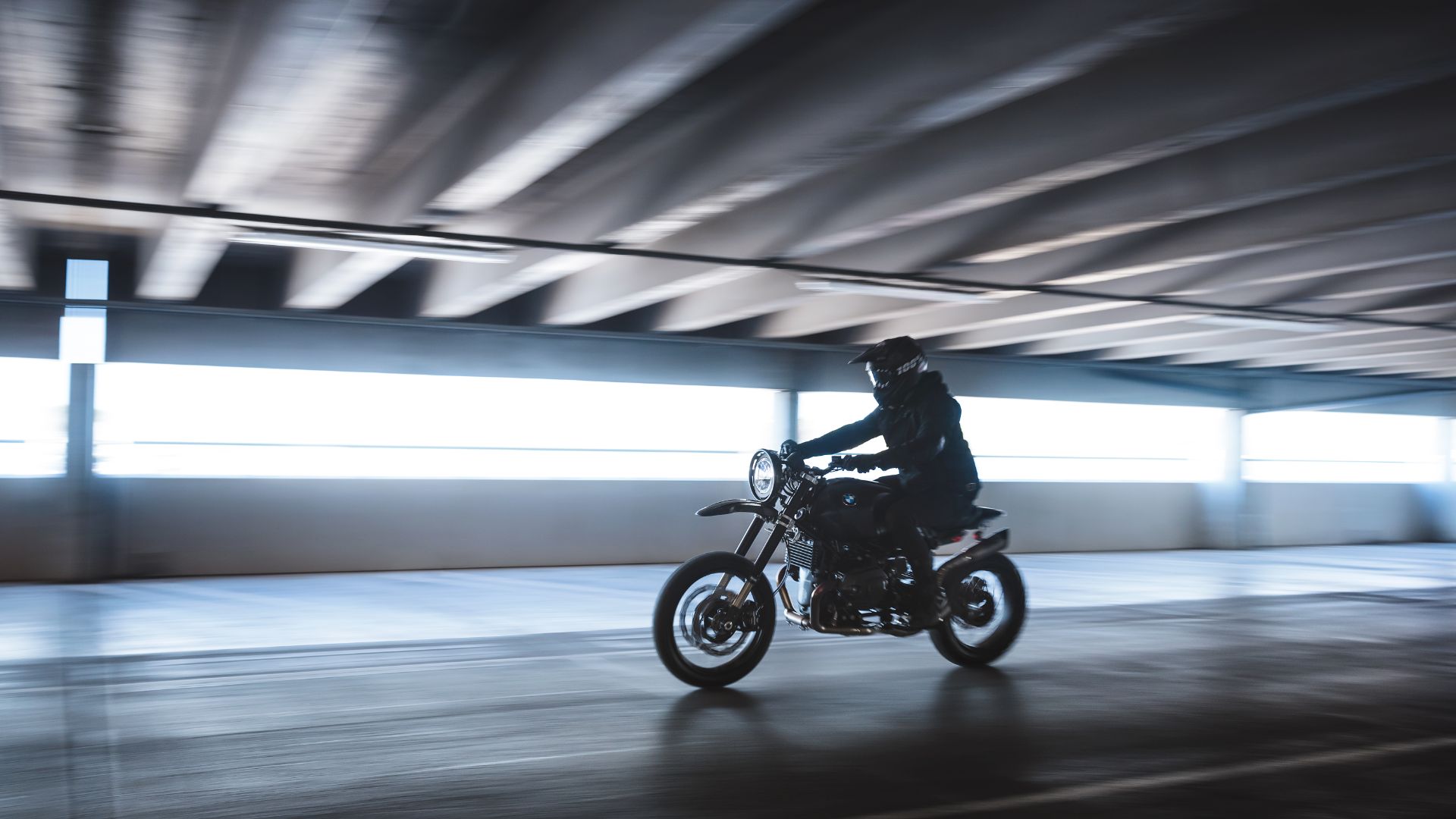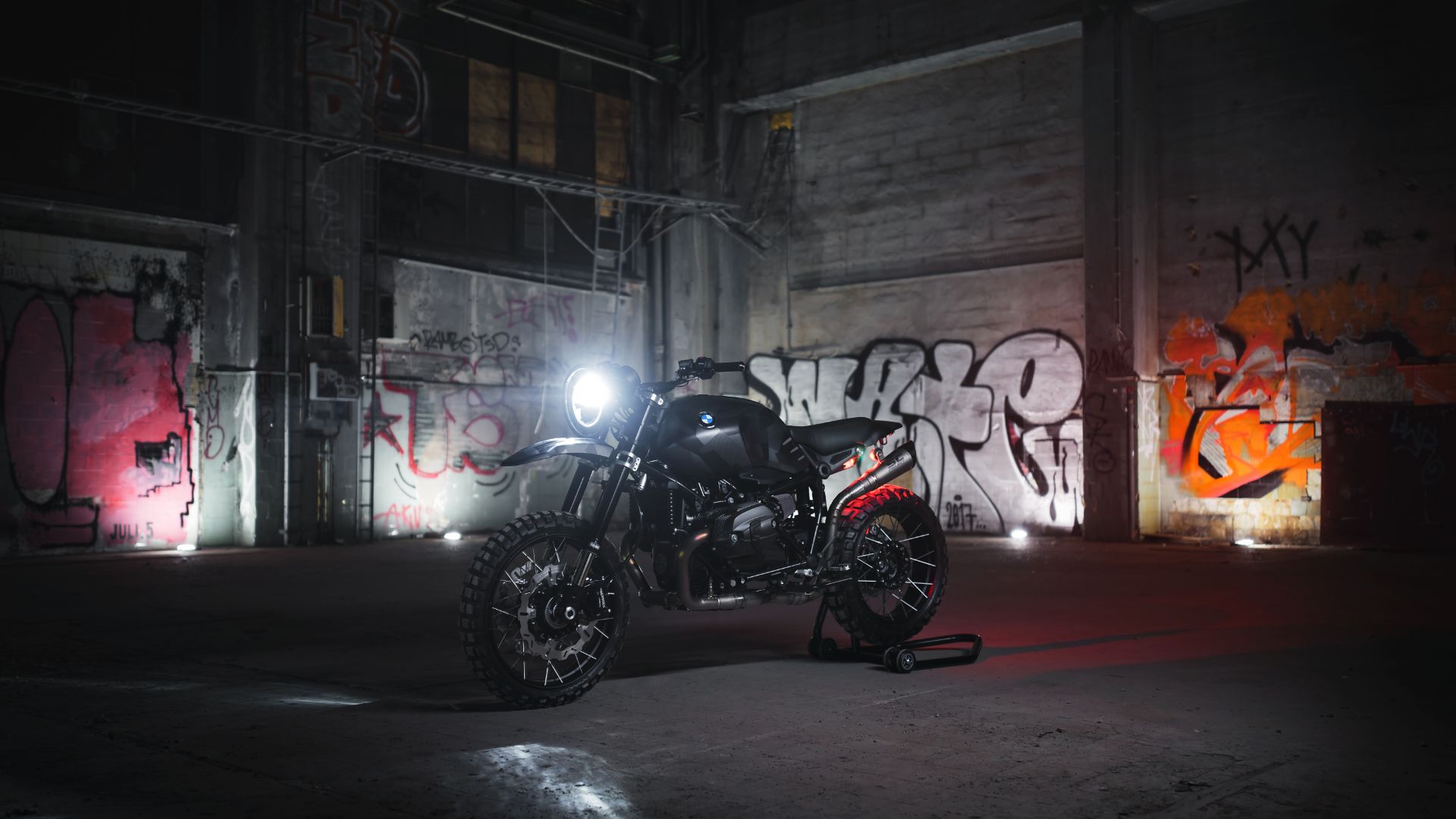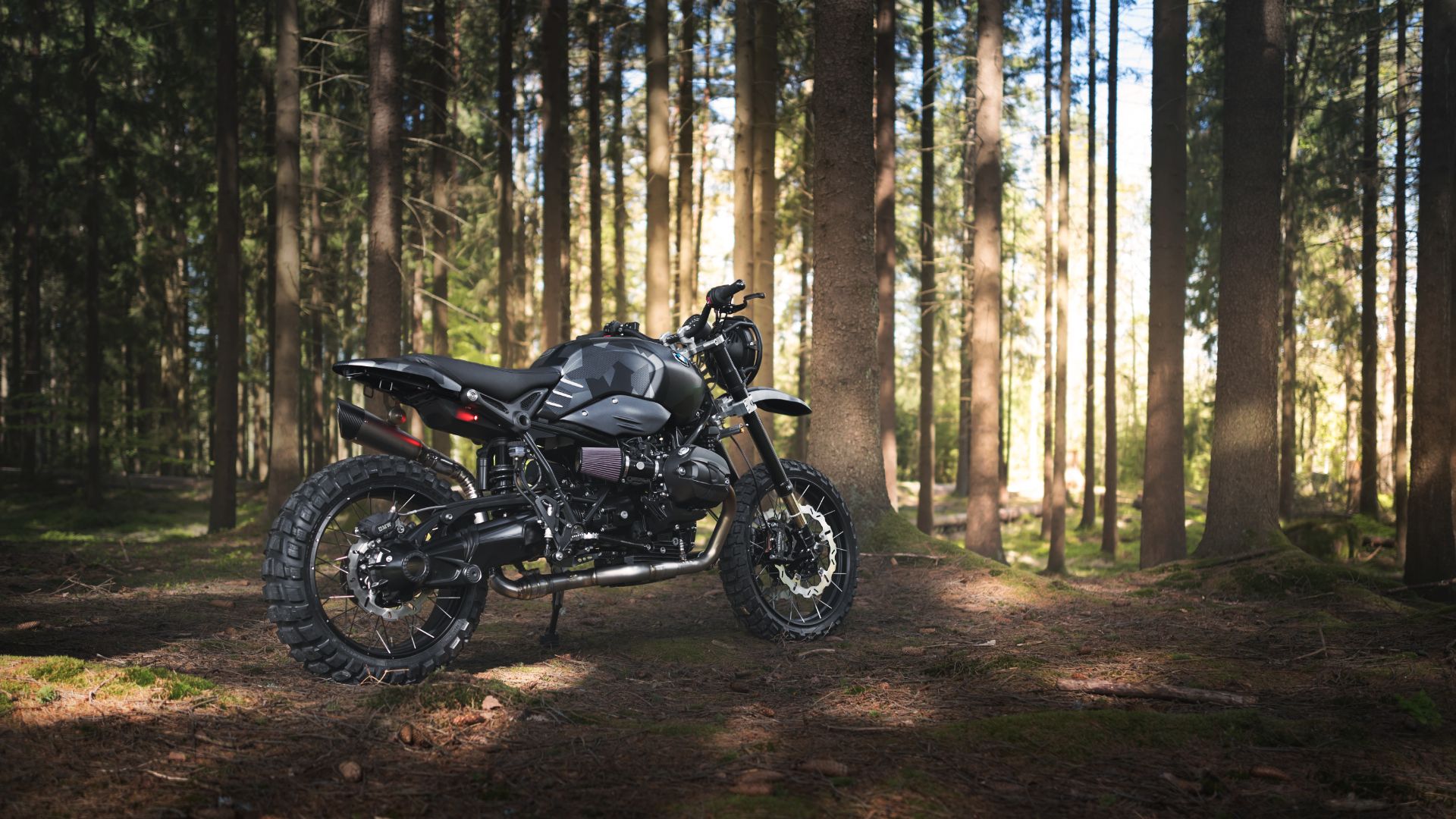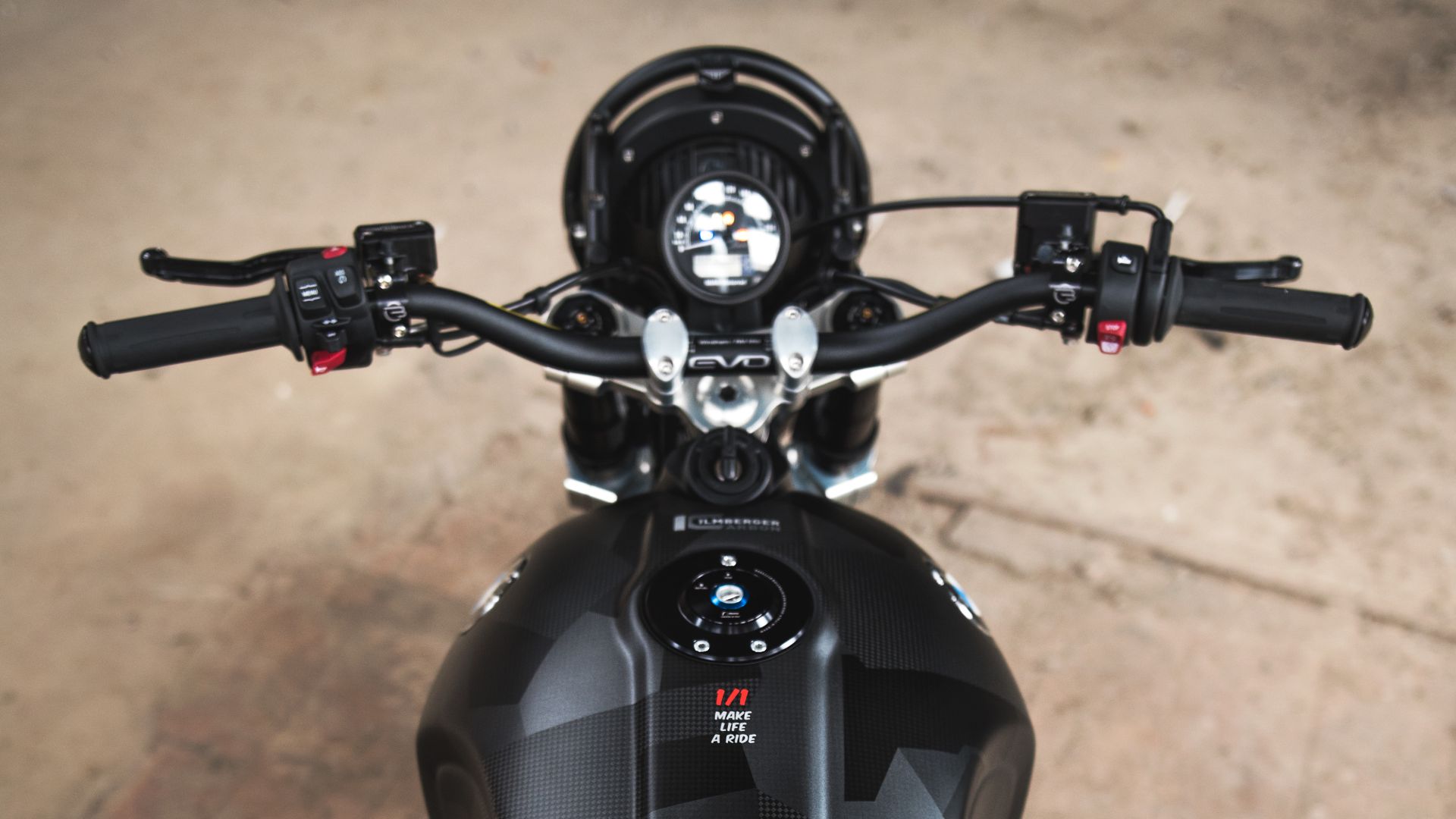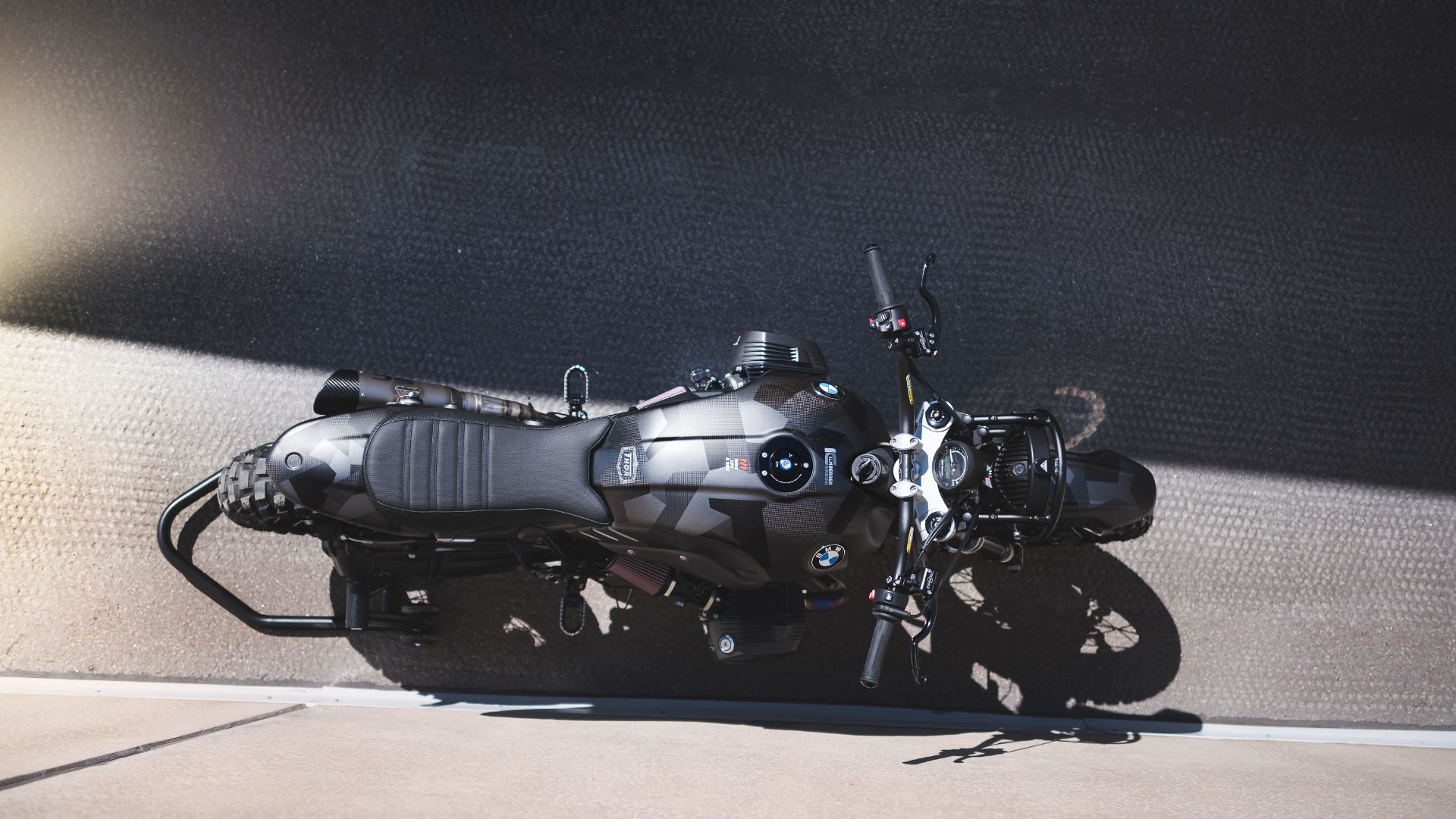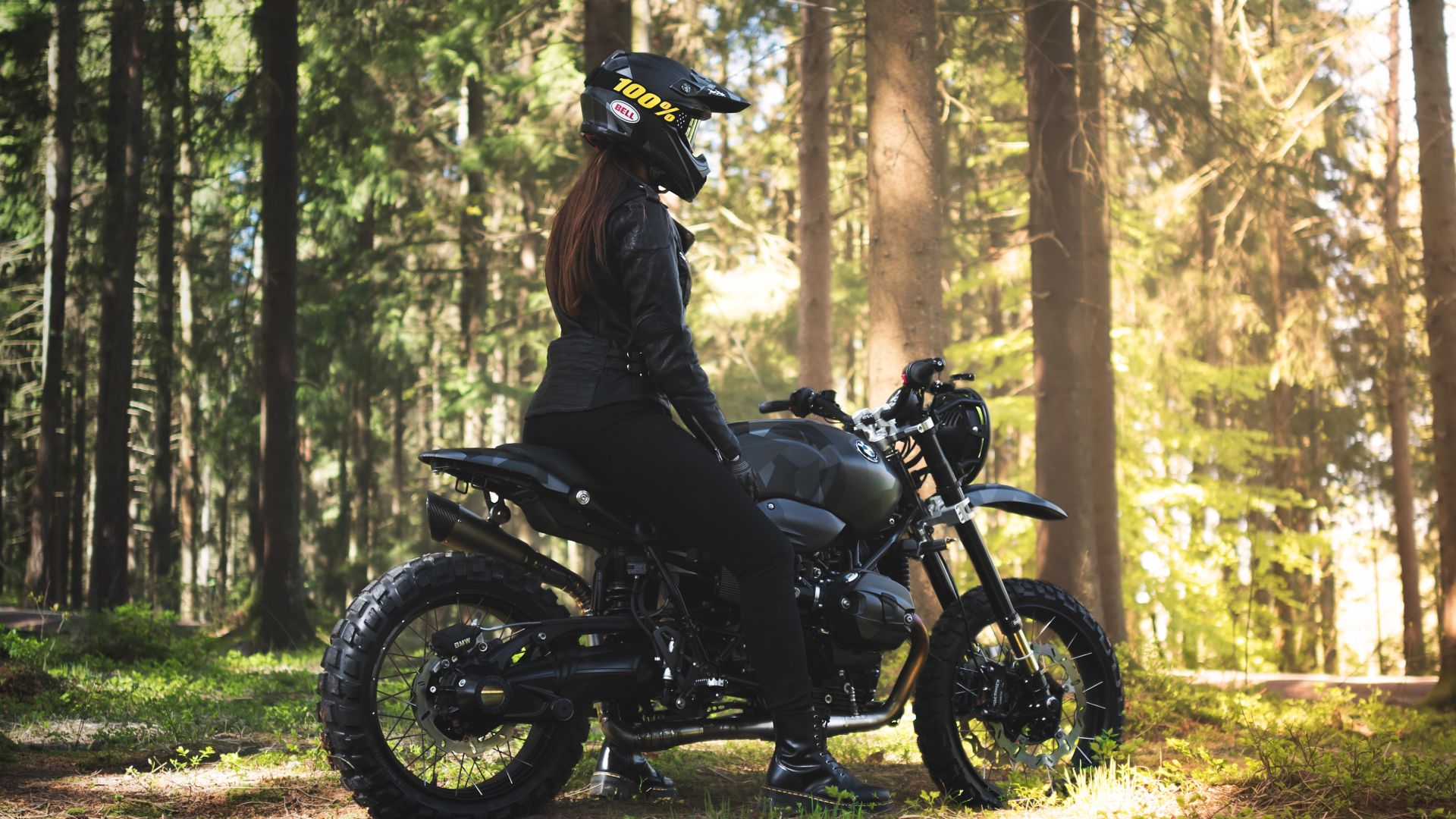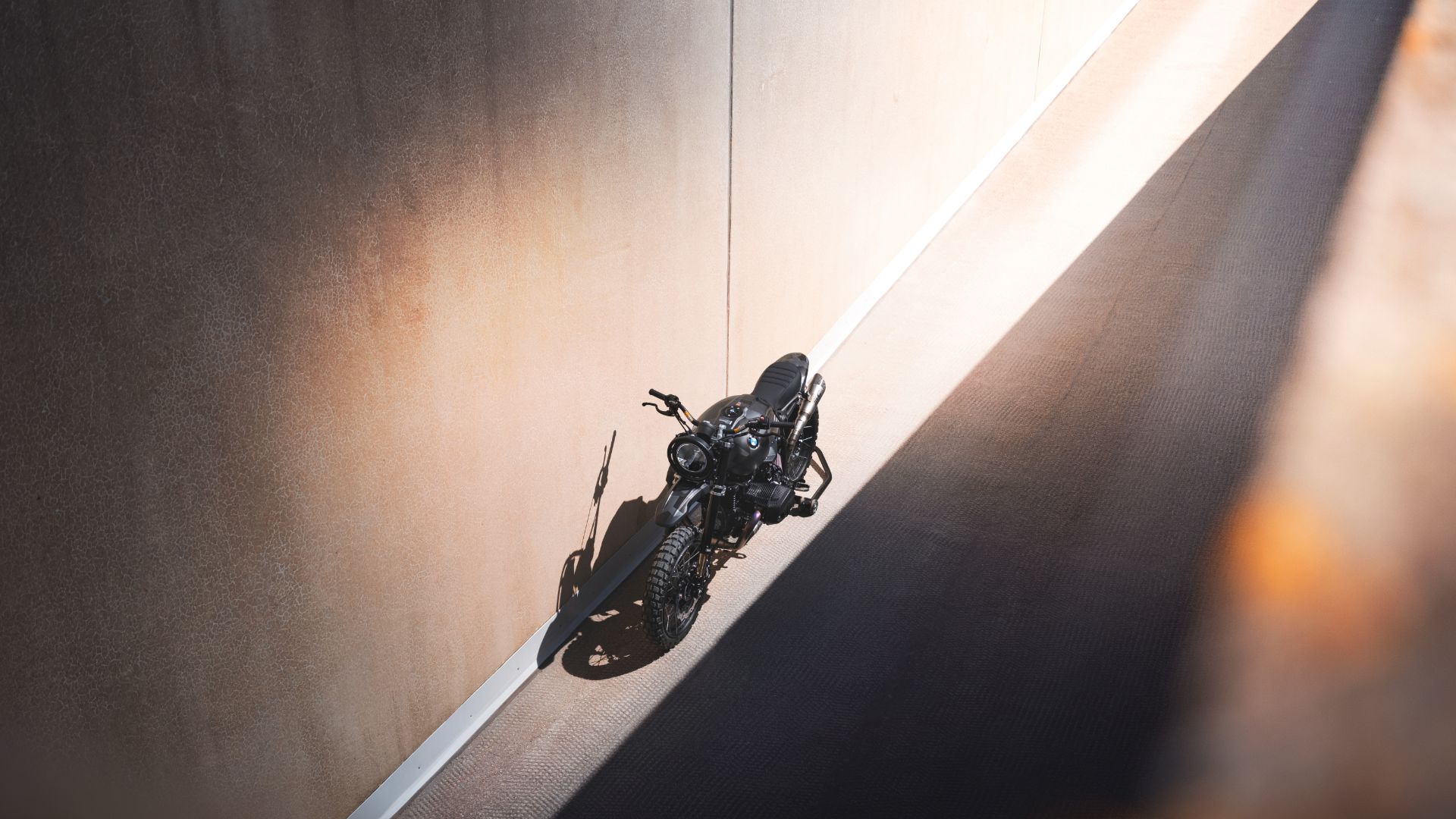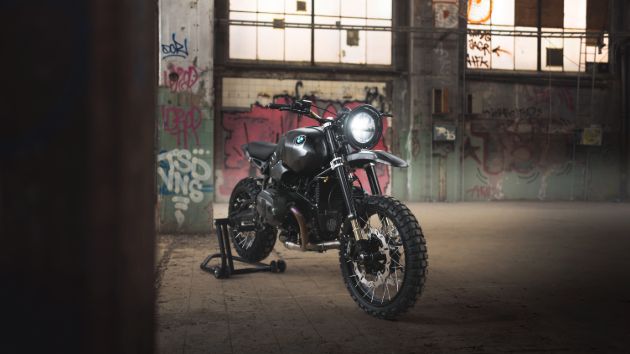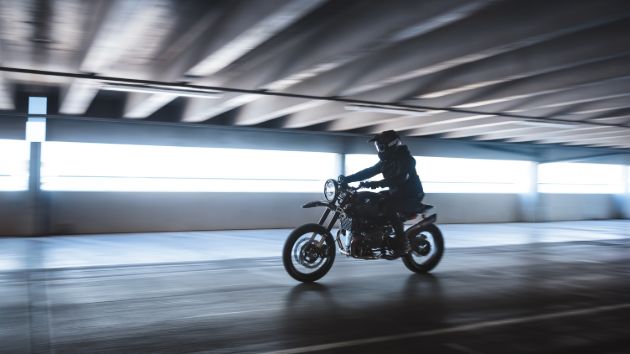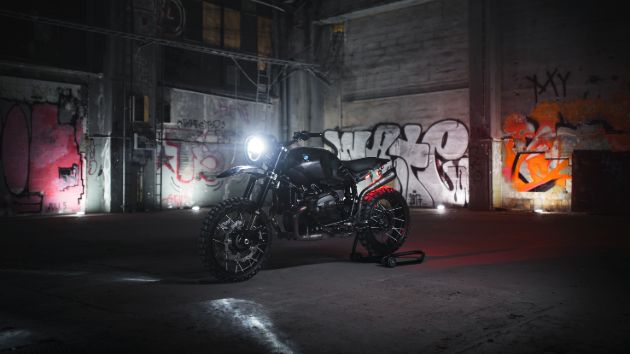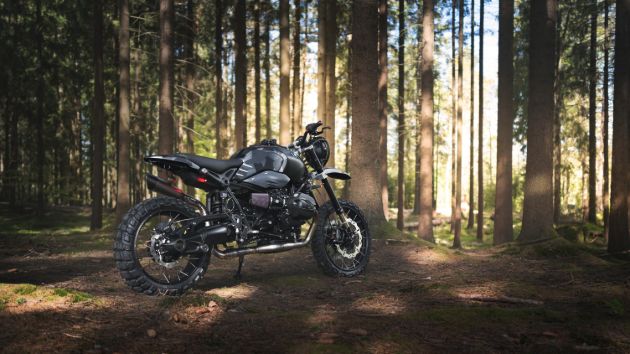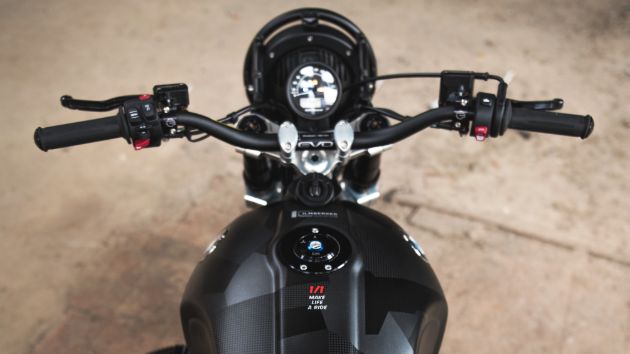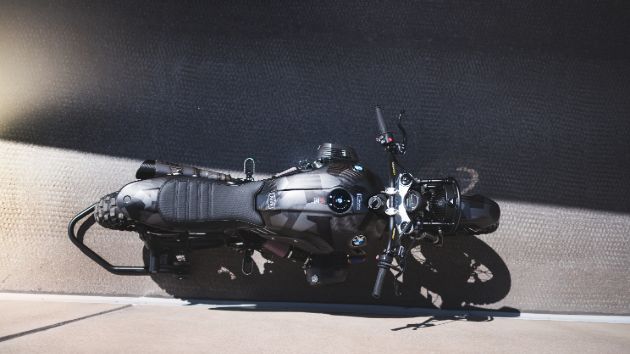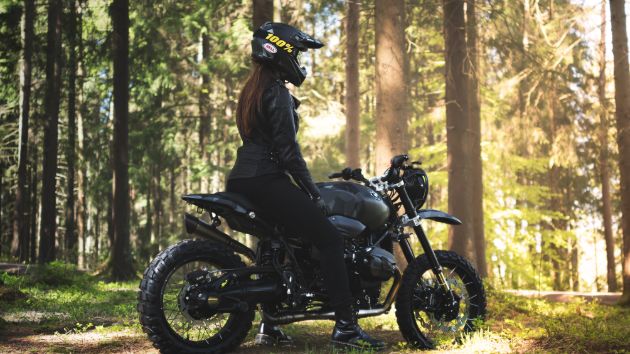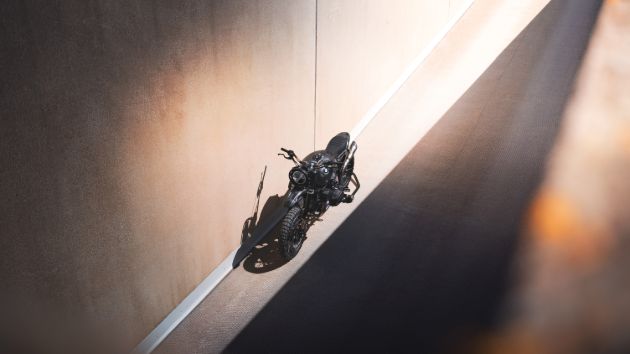 Intelligent design
Intelligent design
It features a full carbon-fibre tank, painted by Image Design, a UK company with 12 years in the business, with an incredible transparent stealth camo finish. Speaking with Tom Fuller from Image, he fills us in on what it takes to get such a unique effect.
"It's a challenge when you tackle carbon-fibre – it often has lots of pinholes which affects the paint. However, the carbon-fibre sourced from Ilmberger Carbon was really high quality which made things much easier. First, you have to use a transparent sealer, then layer the paint many times over to get the camo look. After building up the layers, you then sand it back to remove the edges. Finally, the top coat is a 'denim' lacquer, which is matte but buffs up in high wear areas – just like a pair of jeans."
+ Read more
When it comes to the process for Anton, he used all of the skills he's learned creating custom bikes. The 2-into-1 exhaust snakes tightly under the bike and hugs the shape as it stretches out to the tail. "It really wanted it to look compact," Anton says. "The light is big, the tank is also a fairly big, so when it comes to the rest of the bike, it wanted it to be sharp and slim."
It's undeniably a work of art, yet Anton is also a keen rider. To keep to his original vision, the bike has all of the best rider-focused options. "I kept all of the premium features BMW offers – ABS, traction control and heated grips. It was important to me to make sure I didn't compromise on the riding experience. It also features the latest Öhlins 'black line products' front and rear suspension."

The finished motorcycle, like a strike from Thor's hammer, hits the target with searing accuracy. A beautiful blend of show-stopping good looks and a rider-focused bike that could handle serious Nordic adventure.
+ Read more
Disclaimer
The vehicles shown here may be modified and equipped with third party custom parts and/or self-made components that are neither manufactured nor distributed or tested by BMW. BMW accepts no liability for such modifications (including installation, characteristics and use of the shown custom parts/components). ATTENTION: Modification of series vehicles (including installation and use of third-party custom parts and/or self-made components) may impair riding characteristics! Riding modified BMW vehicles is at your own risk.