Viva Las Americas.
Spirit of GS alive and kicking in the US.
In March 2017, British journalist and long-distance runner Andy Dukes dared to leave the comforts of home behind and set off on The Marathon Ride — a gruelling round-the-world adventure to run marathons on every continent and ride BMW GS bikes to them all — connecting with the international GS community along the way. Having 'conquered' Europe, Asia, Australia and Africa, Andy's latest stage saw him cross the USA coast-to-coast, where some familiar faces from the world of BMW Motorrad were waiting for him. 
Motivations – the long haul.
Motivations – the long haul.
Marathon running and long-distance riding are not so different: both require high levels of fitness, endurance, self-sufficiency and mental strength. I wanted to challenge myself, both physically and mentally, to run further and faster than I'd ever done before in my life — and to do this while attempting to ride around 45,000 kilometres across the globe in the space of less than a year. By the time I arrived into Los Angeles, I had ridden more than 30,000 kilometres, crossed over 30 countries and successfully completed marathons in Malaysia, Australia, South Africa and Germany. Ahead of me lay the continental USA and a 10,000 km route across to New York, via Las Vegas, where I would run my fifth marathon on my fifth continent.
+ Read more
The ride of my life.
The ride of my life.
Throughout The Marathon Ride, BMW GS riders from across the world have welcomed me, hosted me, ridden alongside me and even come to my rescue in certain situations. I've been offered kindness, friendship and shelter — all because of the bike I ride. This unique, worldwide community is unlike any other and any solo adventure traveller riding a GS should never fear being alone — because they never will be. Everywhere I've been across the globe in 2017, I've met BMW riders, all playing their part in spreading the joy and true #spiritofgs. And as I travelled across the USA, I discovered that the American GS community is no different and also welcomed me with open arms. Here are just a few of the many 'faces' I connected with on my final stage of The Marathon Ride.
+ Read more
Kurt Yaeger – A true Motorrad Angel
I first met Kurt at the 2014 International GS Trophy in Canada and subsequently when the Trophy was held in South-East Asia in 2016. The high-profile Los Angeles-based actor and producer has since then worked on many shows, including NCIS:LA, Quarry, Lethal Weapon and Sons of Anarchy.

+ Read more
I visited the former professional X-games athlete and GS owner at his home in LA, where he told me about a trip he'd made to Puerto Rico with the Motorrad Angels. He recently joined them on an adventure riding mission to support the vulnerable communities hit hard when Hurricane Maria made landfall last September. "A couple of the guys from the 2016 USA GS Trophy team (Tom Asher and Dennis Godwin) are involved with the Motorrad Angels — a group of adventure riders who travel the world on motorcycles to reach those in need and bring clean water and other lifesaving assistance to the most vulnerable." They invited Kurt to ride with them, deliver food and help install water filtration systems — as well as help raise awareness of the catastrophic situation in Puerto Rico.
+ Read more
Using GS to help.
Using GS to help.
"When we arrived there were chaotic scenes of destruction with debris everywhere, no power and no drainage," reminisces Kurt. "We used BMW GS bikes to get to places that other vehicles couldn't reach, along single-track, impassible roads blocked by trees. The GS was the perfect bike as it can be packed with loads of equipment, go everywhere and haul just about everything you need on and off-road. We installed about 55 water filters in two weeks, while delivering lots of water and food." Find out how you and your GS can help bring resources to the world's most impoverished communities at www.motorradangels.org.

+ Read more
Rawhyde – GS through and through
When I arrived at the California Ranch of official BMW Motorrad partner Rawhyde Adventures, it wasn't unlike stepping into a scene from a cowboy movie — with modern GS bikes replacing horses of course. Owner Jim Hyde is naturally a skilled horseman, but an even better motorcycle rider and instructor: in fact, he's taught thousands of GS riders the joy of riding off-road and has inspired many more to explore the USA and beyond on their BMW bikes. My off-road skills needed brushing up too (I believe you never stop learning) and even after thousands of kilometres of off-road riding on this trip so far, I felt I still needed help, so I booked some extra tuition with the Rawhyde team. Jim's love for GS bikes came from a motorcycle tour in the Italian Dolomites on an R 1100 GS. He's been riding them ever since and has one of every model in the range, from an original R 80 G/S right up to the latest water-cooled fleet that customers can experience on the 2,500 acres of ranch-land surrounding Rawhyde Adventures.
+ Read more
«
The GS is the Swiss Army Knife of bikes — the tool to let you do everything. »
That's why we ride.
Jim's backyard is a playground for adventure riding.    
That's why we ride.
An official BMW Motorrad Training Partner since 2008, Jim and his team have found that helping riders discover just what their GS bikes are capable of on all kinds of terrain literally opens up a world of adventure to those that are prepared to take the next steps. "Training is the gateway to people taking adventure tours. If you want to go beyond Europe and North America, it's all unpaved. The more relaxed and comfortable on dirt you are, the more you're going to enjoy your trip. It all boils down to enjoyment. That's why we ride, right?!"

+ Read more
From the top to the bottom.
Despite offering adventure tours throughout the USA, Canada, Mexico and Alaska, Jim hadn't done a "serious long-distance" trip, so recently assembled a group of 15 guys he trusted, and headed out on the ride of his life — an 11,000 mile, two-month, six-country journey the vertical length of South America, from the top of Colombia to the bottom of Argentina. "With 'Expedition 65' I wanted to inspire other people to give their own adventure dreams a shot. We've made a film that tells the story of the trip which I hope enthusiasts will enjoy and get a few ideas from." Watch the film teaser at https://youtu.be/QYkC7g5NzAs. 

+ Read more
Shawn Thomas – Spreading the joy
It's got to be one of the dream jobs in motorcycling — spreading the joy of riding across the nation. Well, that's what GS fan Shawn Thomas does for a living, and I wanted to find out more. He's one of those likeable, larger-than-life characters, who believes that the raw, unpredictable world of adventure motorcycling refreshes the parts that other types of riding just can't reach. "Asphalt is literally engineered to provide grip," Shawn tells me. "Road signs are placed in just the right way to ensure you know where you're going and how long before you arrive. On the trails nothing is certain. Road surfaces can change dramatically in no time at all. And you never know what you might find out in the backcountry. There are infinite rewards that come from taking on these challenges."
+ Read more
The pure joy of GS style.
This way: Shawn is always inspiring BMW riders and other people. 
The pure joy of GS style.
He should know of course. As an off-road instructor, he's taught and inspired hundreds, if not thousands of BMW riders to discover the pure joy of going off the beaten track, GS style. But as a Motorrad brand 'ambassador', he uses his profile to help connect riders in the GS community and bring them together to share this new-found joy. I liked him instantly. "Being an ambassador is about educating and inspiring people. I love that," enthuses Shawn, when we stop for coffee. "Adventure riding has a way of stripping us of ego and pretence, and revealing the pure essence of who we are. I have learned more from the people I ride with than just about anyone I have ever known. I feel like being a BMW ambassador gives me a chance to return the favour to others."
+ Read more
Living the dream in the scene.
Shawn in action. Credit: Stephen Gregory    
Living the dream in the scene.
Shawn's deep understanding of the adventure world means that he is able to give BMW Motorrad feedback and opportunities for improvement on various products. It may well be that the riding suit you're wearing has certain features and functionality built-in because of suggestions Shawn made during its development process. Shawn is one of the riders that played a part in the early evaluation of the EnduroGuard suit, but it's not just new products he's helping develop; Shawn also plays an active role in promoting the GS scene in the USA.
+ Read more
The voice.
Are also known as the Adventure Brothers: Shawn and his brother Lance (left). 
The voice.
"The USA represents one of the few places in the western world that offers an opportunity for real adventure riding," he says. "There are still places you can go that only an adventure bike can take you, and they are so worth seeing! I think most GS riders in the USA are only scratching the surface of what they can do with their bike. And many more are waiting to be exposed to this lifestyle. I am here to be a voice for this."
+ Read more
Mongolia is on top of the wish-list.
Pure joy: Andy, Shawn and his daughter Hailey amid the Redwoods in California.    
Mongolia is on top of the wish-list.
Shawn uses motorcycling as a way to connect with his own kids (Drew and Hailey) and discover the world together. Eleven-year-old Hailey came along for the ride with Shawn and I, and she's definitely a biker in the making. The two of them have already ridden in Colombia and Costa Rica together, with plans for future adventures in Africa and New Zealand. But top of Shawn's wish-list is to go to Mongolia to support the GS Trophy. Having reported on all the US national qualifiers, he believes that the Americans have a good chance in the upcoming international competition. "The GS Trophy is intense. To be on the team seems like a dream, until you take a hard look at what they have to do in competition."
+ Read more
Erin and the world's fastest GS
As a corporate high-flyer leading a global team of 300 in her former role as director of consumer insights for Facebook, Erin Sills is used to life in the fast lane, but her real passion is racing motorcycles — very fast. I knew her husband (the late Andy Sills) who along with Erin earned multiple world and national records for land speed racing on both standard and modified BMW S 1000 RRs. While Erin's best known for her achievements at well over 200mph on the salt flats or asphalt, she has also discovered the joy of riding a BMW GS at much slower speeds. I wanted to find out more so I tracked her down in San Francisco. 
+ Read more
Just try it.
Just try it.
"I was already a GS owner, but I never felt the need to go off-road because I was doing plenty of other extreme things in my life," says the diminutive blonde with the piercing blue eyes. "But after my husband Andy died, Shawn Thomas called and invited me up to Rawhyde. I did some training, followed by a couple of tours and was then inspired to try out for the US GS Trophy team after watching the 2014 qualifiers. But ever since Jim Hyde invited me become an instructor, I've never looked back."
+ Read more
It's all about technique and training.
As a certified coach with over 40,000 miles on her own GS, Erin teaches men and women of all shapes and sizes how to handle their GS bikes in the dirt. At just 5'7" tall, Erin is able to demonstrate that size really doesn't matter when riding a GS. "Men and women want to learn how it's possible to ride a GS if you're small and not physically strong, but it's all about finesse, technique and training," confirms Erin. "The bike is super balanced, well-designed and well made, so if you learn the right technique, you're going to be able to ride it." We all know that a GS will never beat the S 1000 RR in a straight line, but that didn't stop enthusiasts like Erin and fellow RawHyde coach Trev Richter from trying to build the world's fastest GS.
+ Read more
A speedy solution.
The world's fastest GS on the El Mirage Dry Lake.    
A speedy solution.
It's a community effort of course (the bike was donated by Rawhyde's Jim Hyde) and is designed to raise awareness for the Race for Relief Project — a charitable organization founded by Tom Larson that provides help to veterans with PTSD and other injuries by taking them on motorcycle adventure tours and various activities to help them deal with the return to 'normal' life after active service duty. "We're trying to find out how to make a GS go even faster," enthuses Erin. "It's got an RT final drive, open air-box and proprietary Sprint air filter and we're going to fit it with a progressive nitrous system which will probably help us to see 165-170mph if we do it right and don't destroy the engine. This project is all about raising awareness for Race for Relief."
+ Read more
Connections across the globe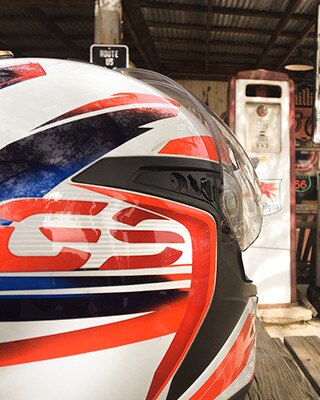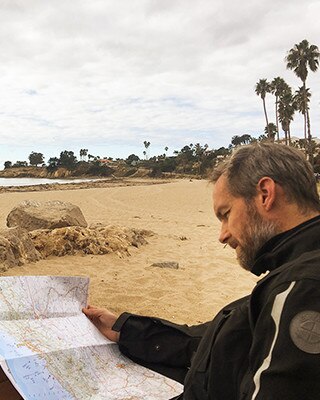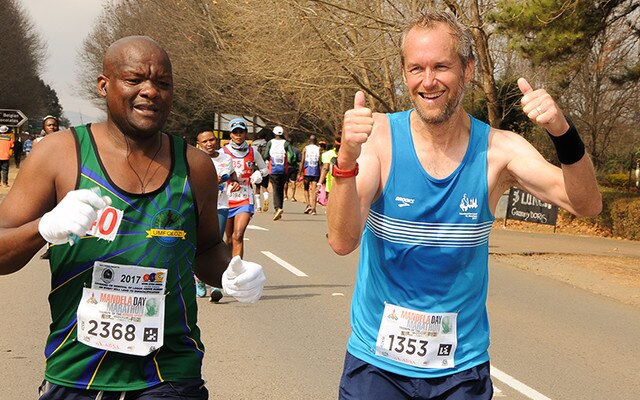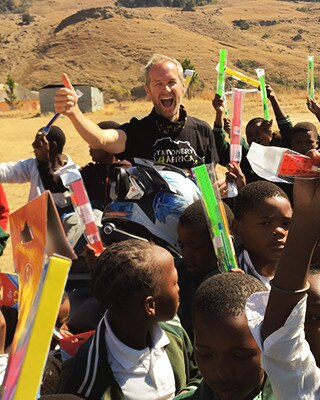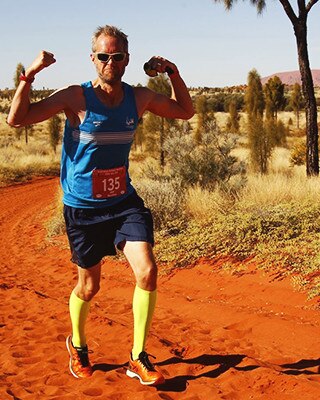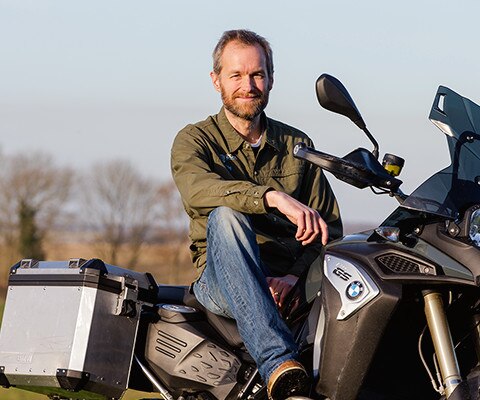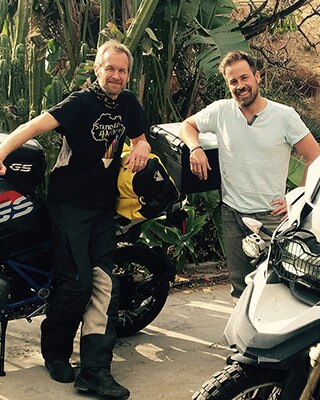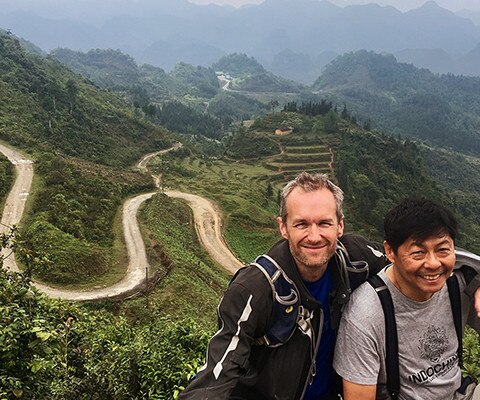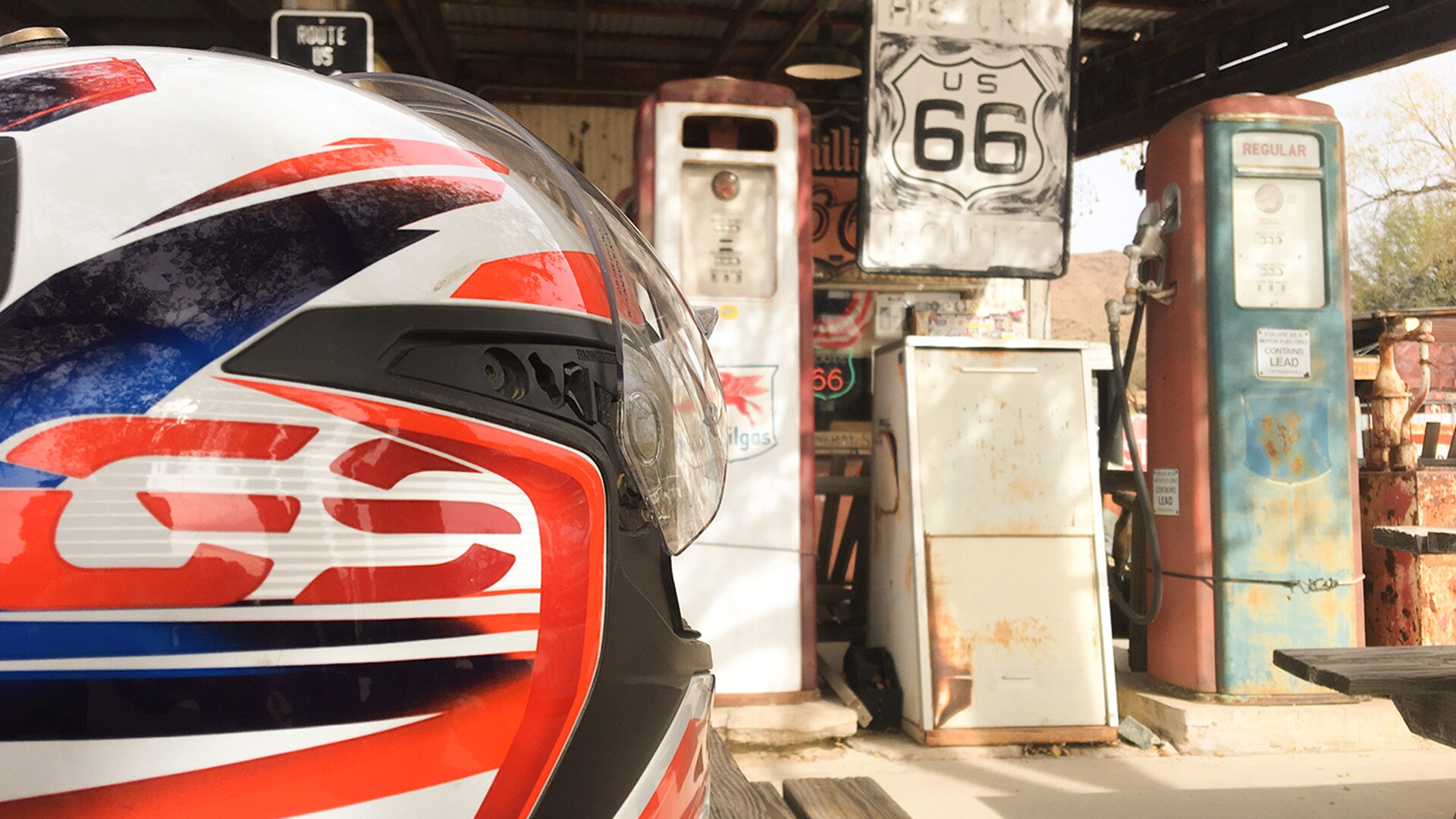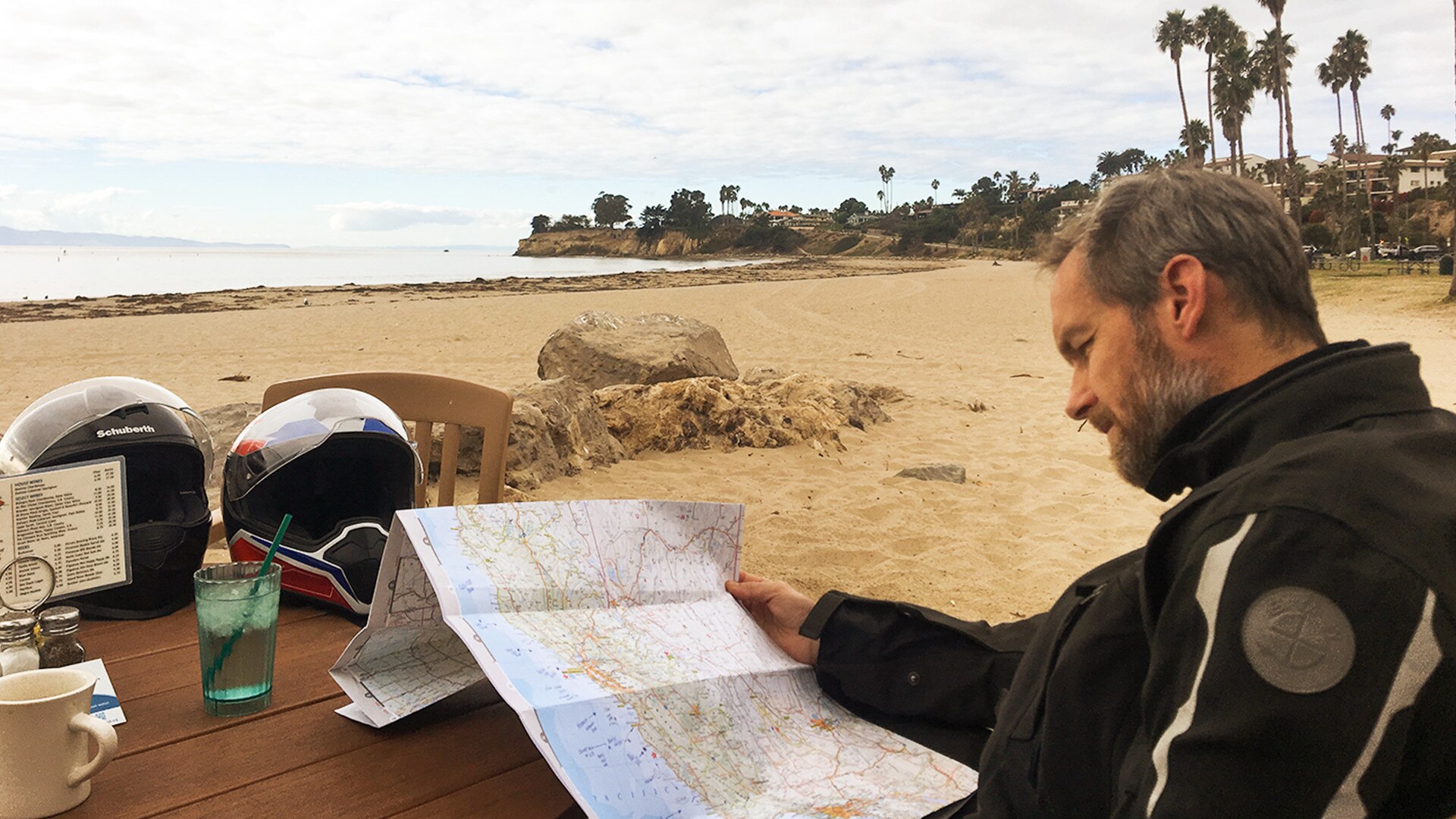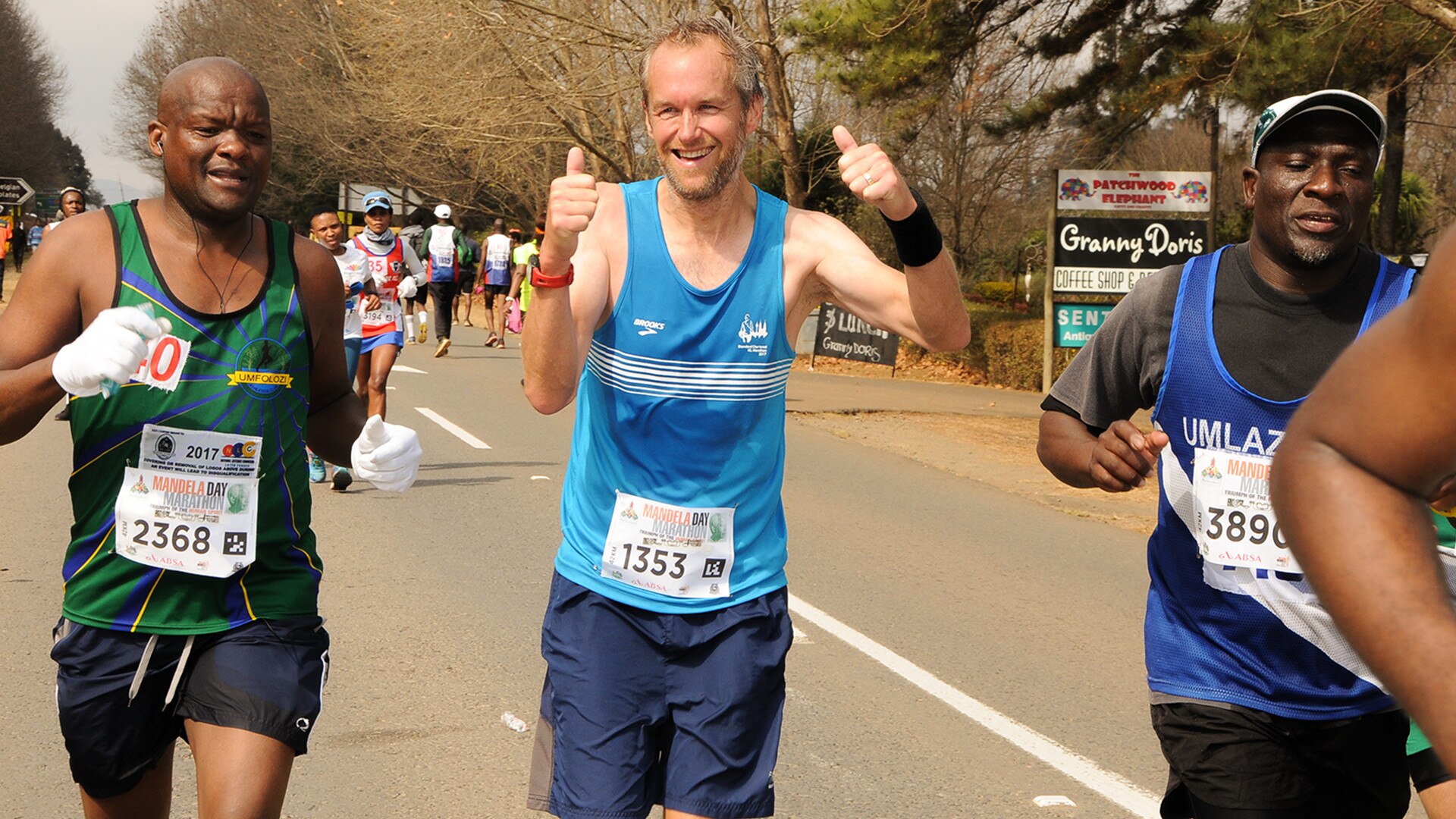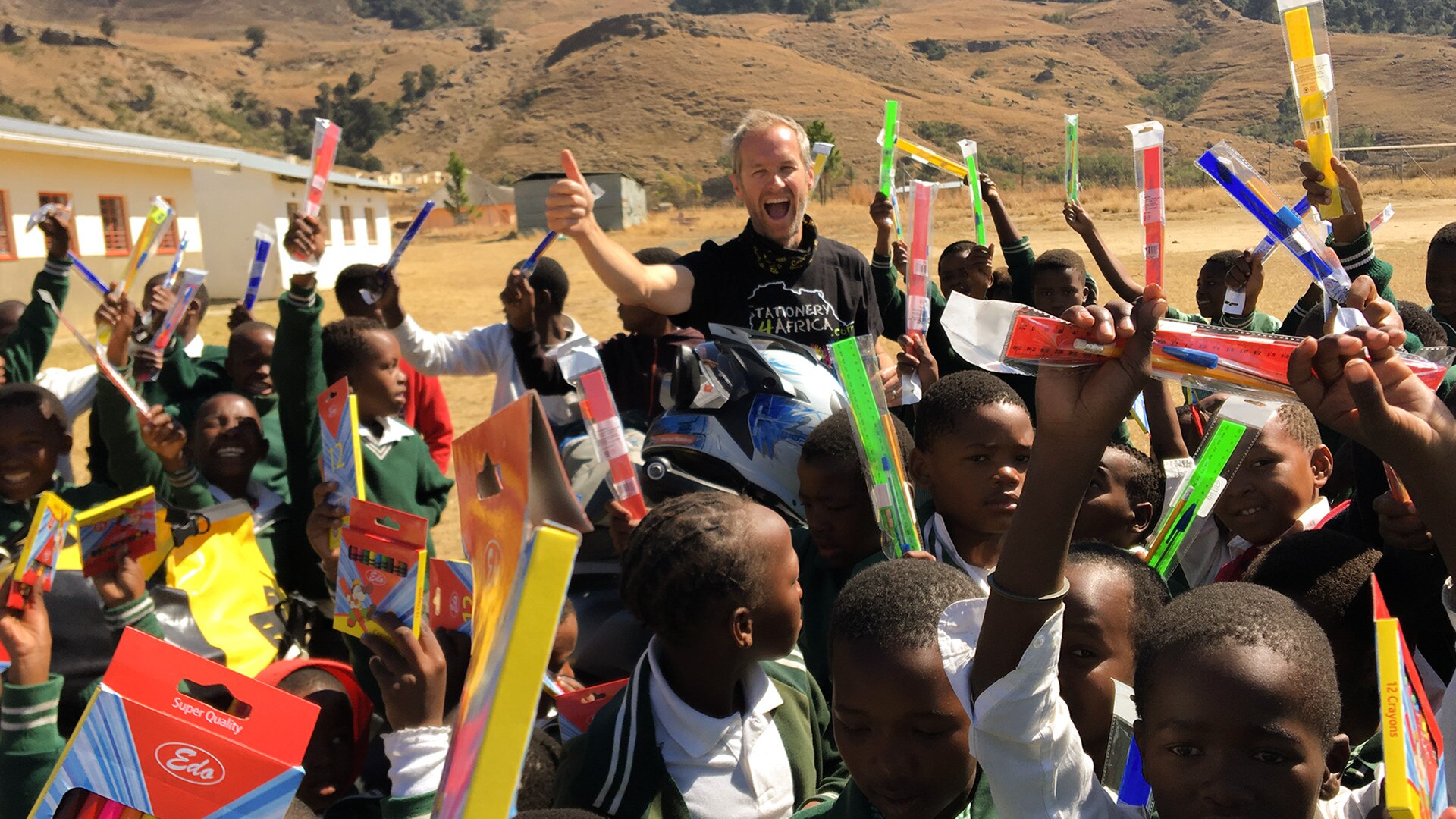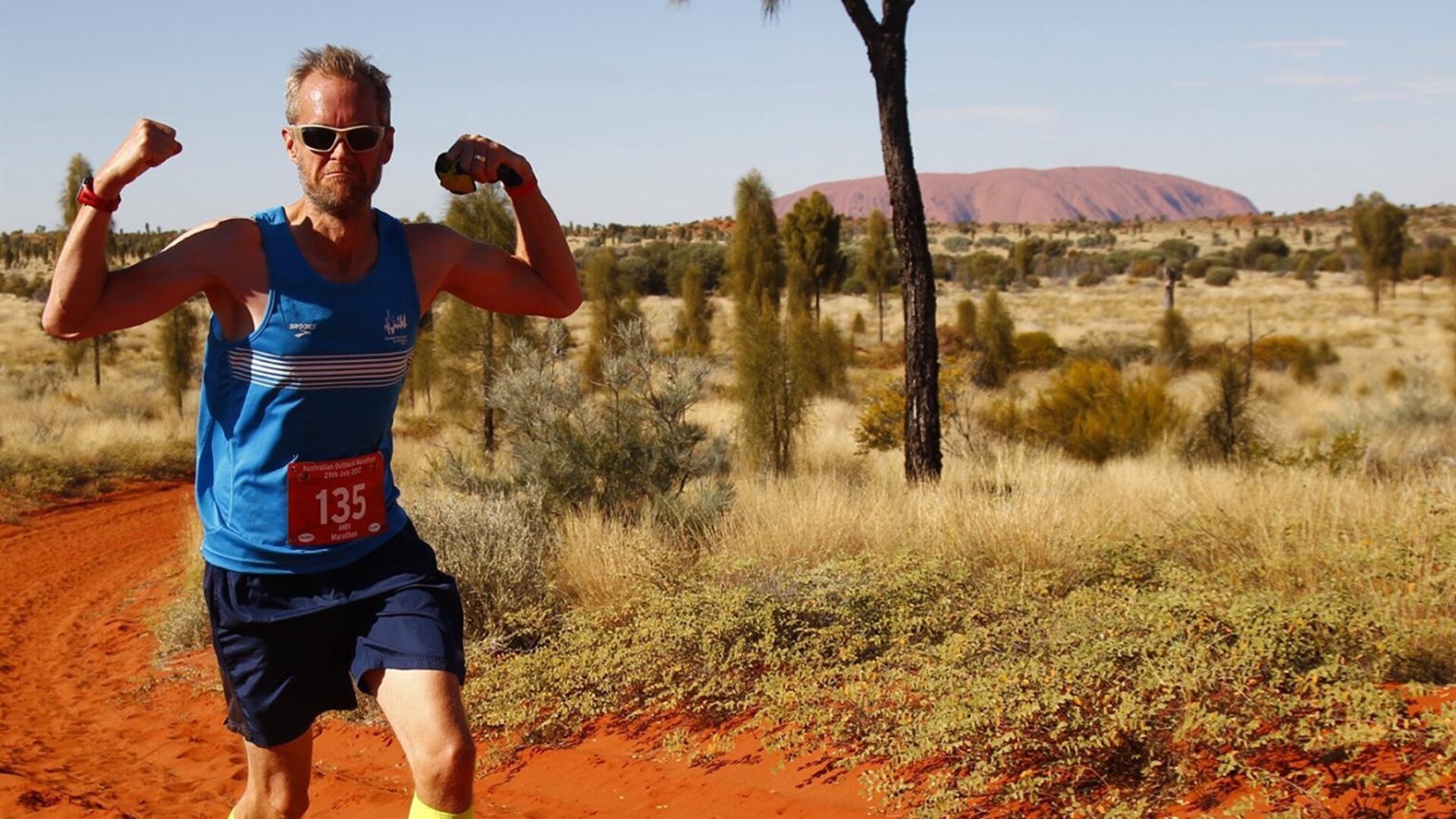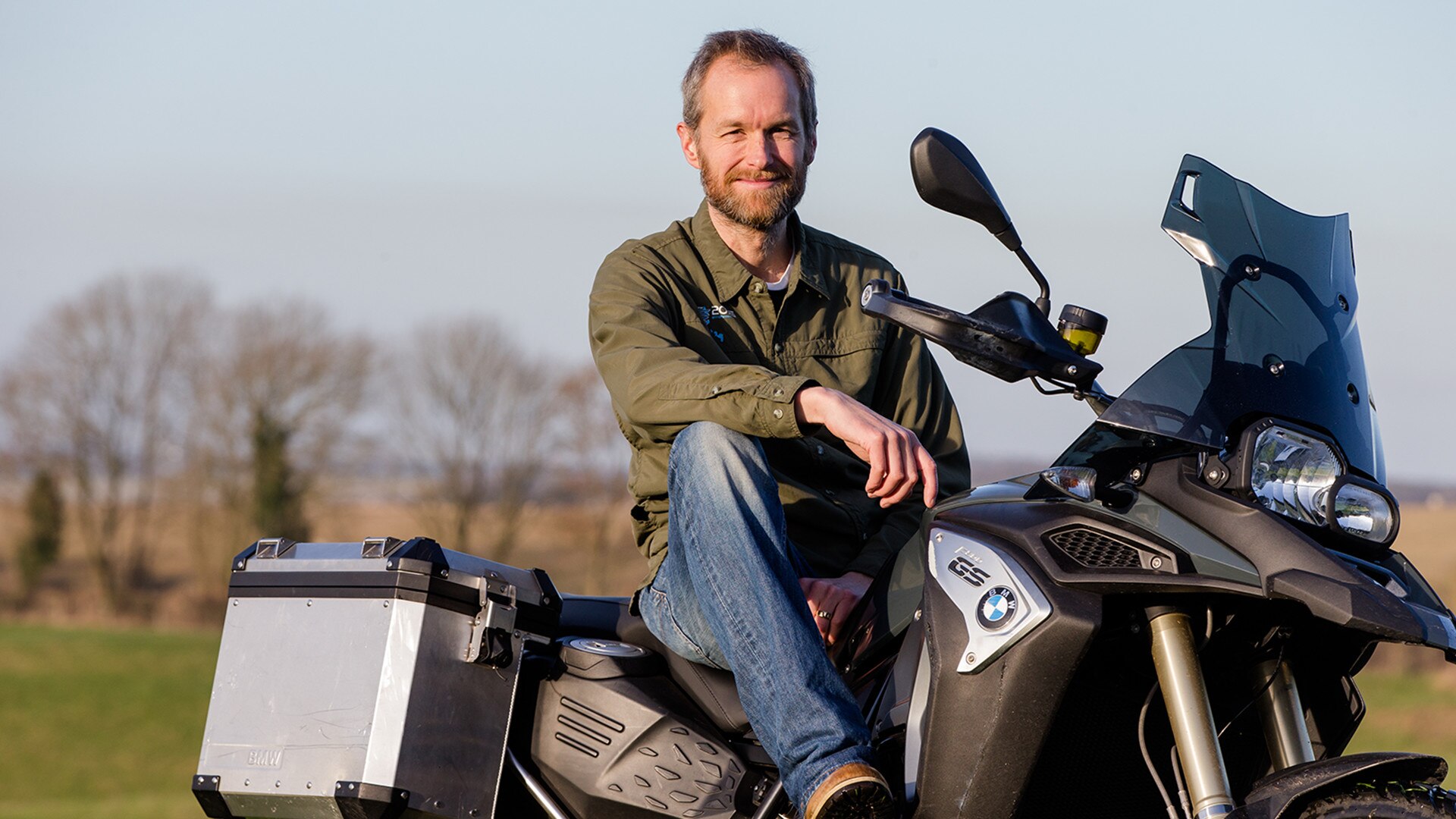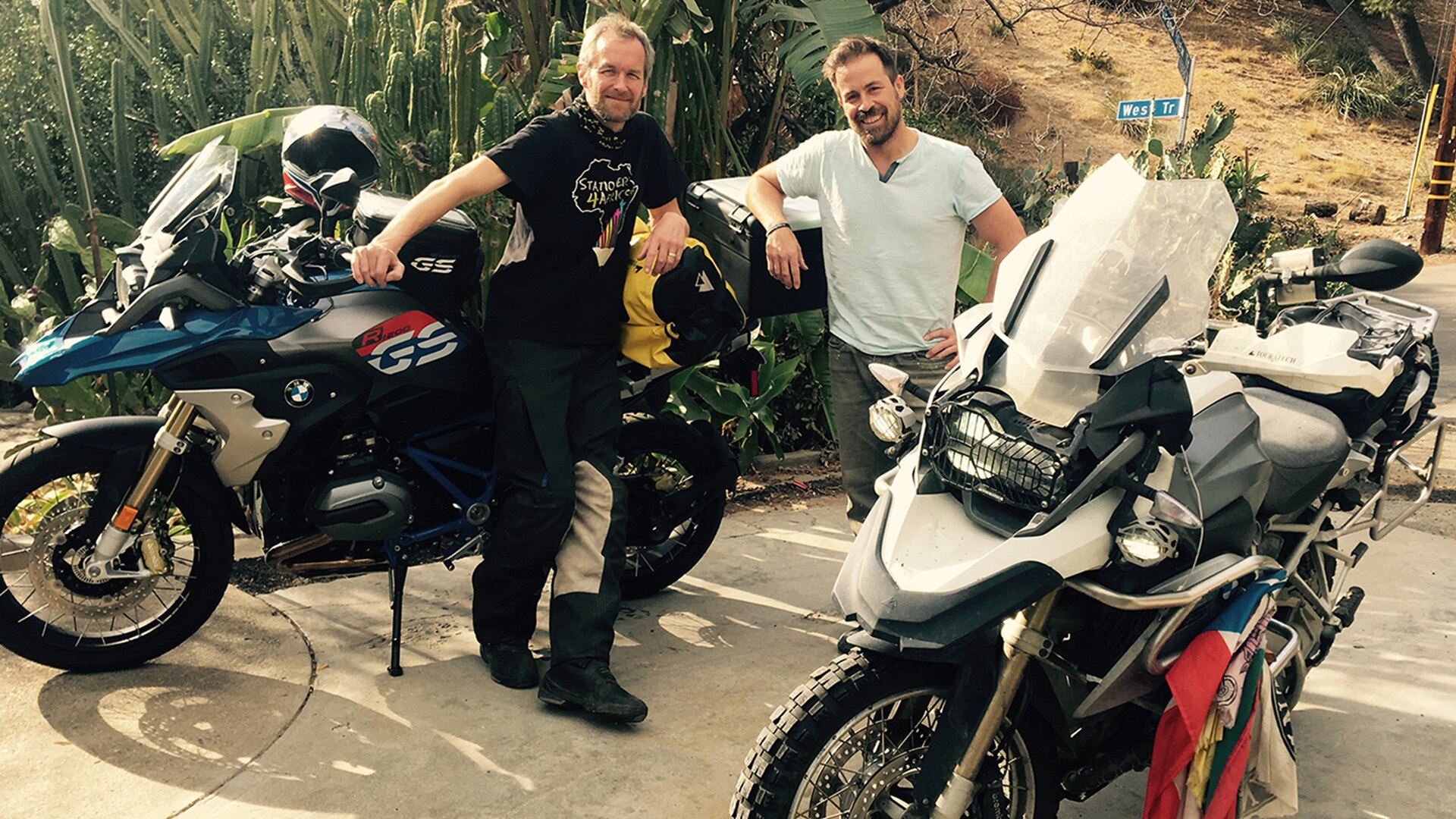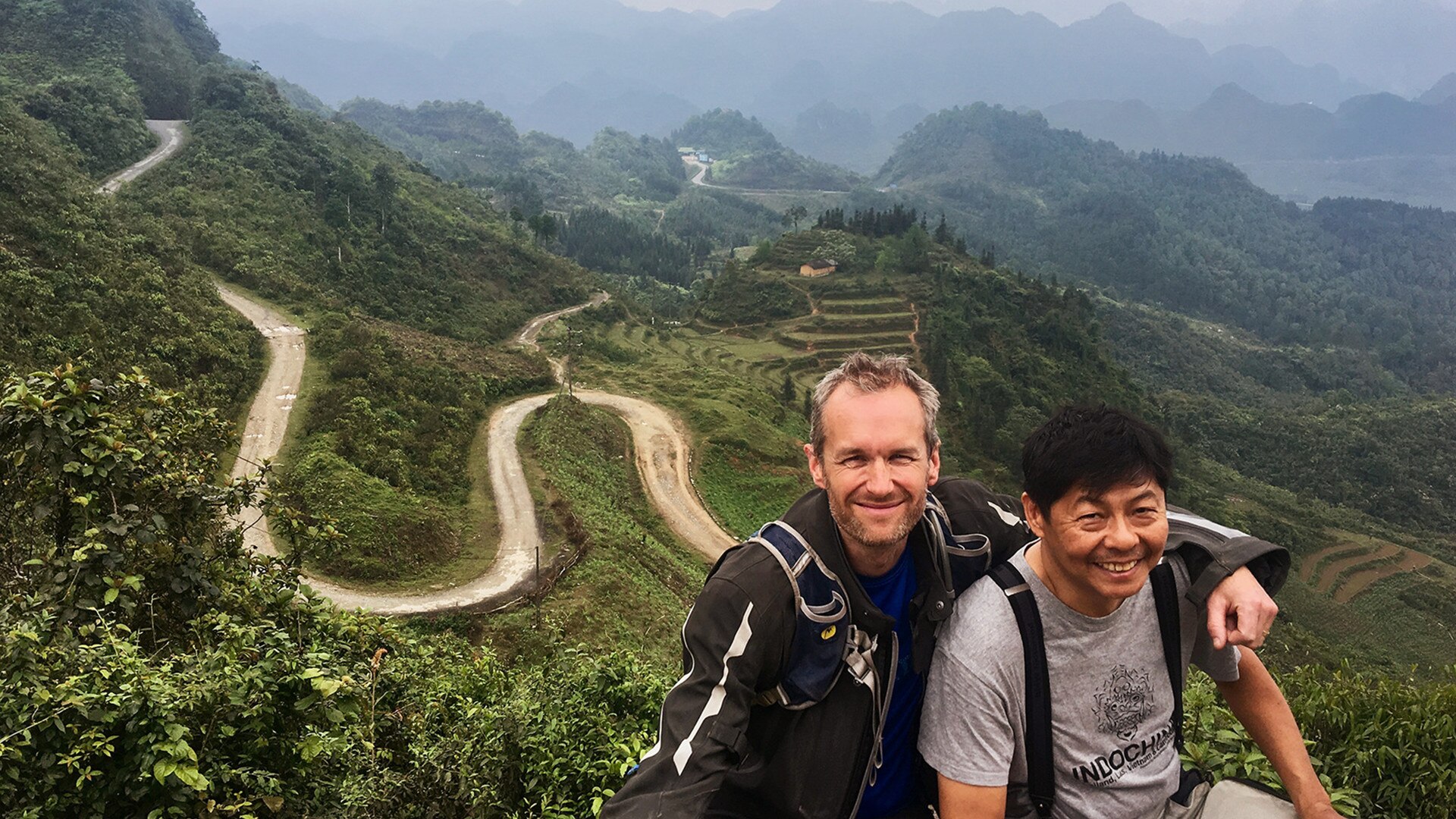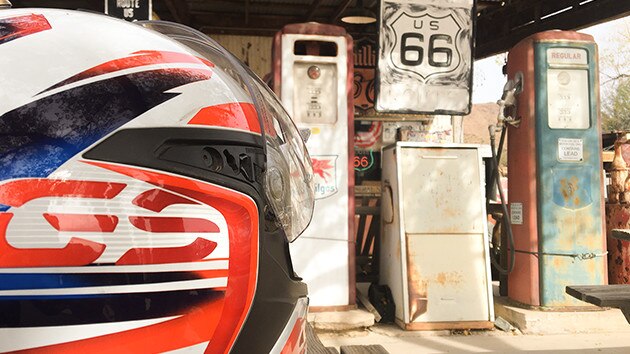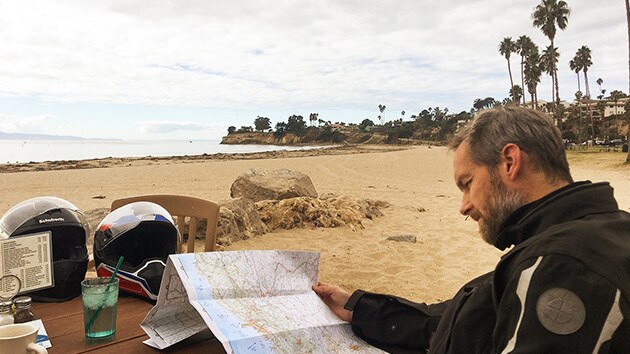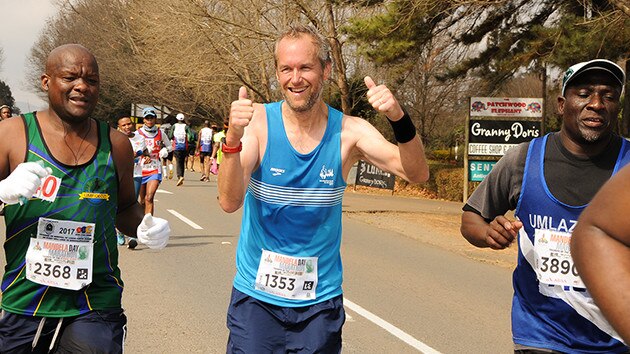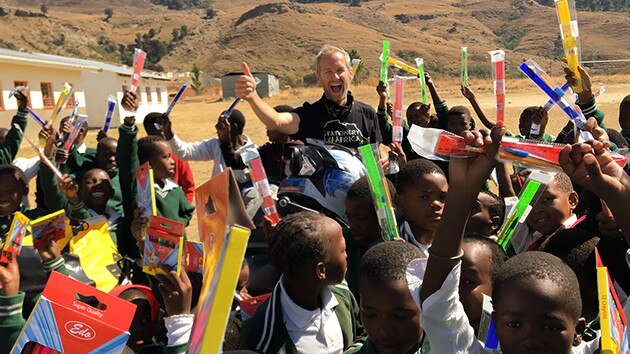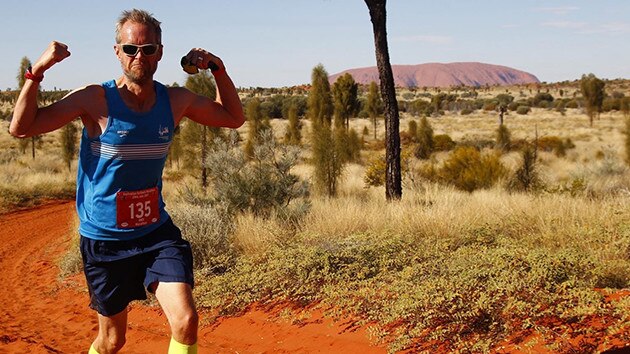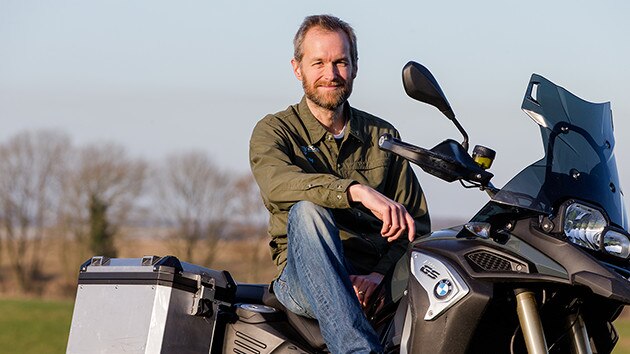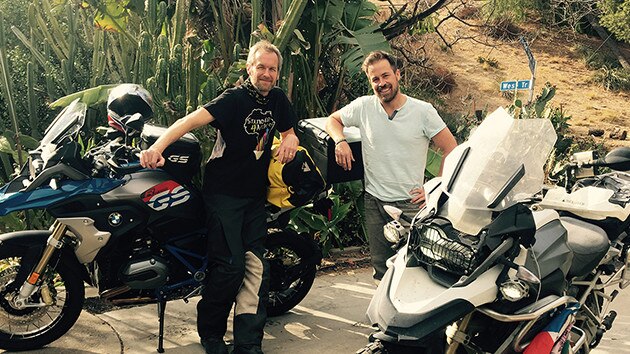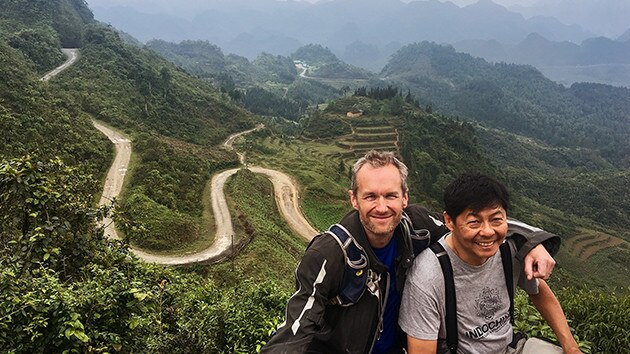 Like the GS scene in all the continents I have travelled across on The Marathon Ride, the USA GS community is equally vibrant, active and welcoming. I've written about just a few of the 'faces' here but there are so many other stories I could tell — and so many GS riders to thank for hosting me, offering advice, sharing routing tips and so much more. You know who you are. This truly global community has made all the difference to my round-the-world ride and I can say without a shadow of doubt that I wouldn't have made it as far as I did without them — and that includes owners, enthusiasts and dealers, as well as the marketing team at Headquarter in Munich that supported my crazy idea. If you share a similar idea or challenge like The Marathon Ride, then maybe it's time to stop dreaming and find a way to actually do it. It could be one of the biggest and best decisions of your life. My advice is to make sure you 'dive in' and connect with your fellow GS riders right from the beginning, wherever they may be — because they could just help you make it happen.
+ Read more